Avoid These "Productivity Killers" During CNC Grinder Changeovers
Rob Titus 04.05.2017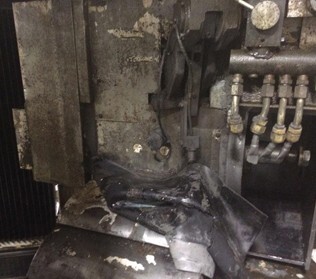 What you see in this photo is a classic example of one of the most lethal "productivity killers" for grinder changeovers – dirt and debris. Cleanliness is a key factor that makes a big difference in your setup time, and there are a variety of common problem areas that should be monitored. Here are my tips for how you can get back to making parts in the shortest amount of time.
Preventive Maintenance is Key
Preventive maintenance is often overlooked. For example, the grinding wheel spindle needs oil to keep it lubricated. If that oil and filter aren't changed on a regular basis, the life of the spindle is reduced and it will require more frequent replacement, which takes time.
Clean During Changeovers
Cleanliness, even on changeovers, is important. When you replace a tailstock center, be sure the new one is clean. Debris will keep the tailstock from seating properly, and there will be movement that causes vibrations, chatter, and inconsistent part sizes.
Coolant Cleanliness
Coolant cleanliness is another big factor. If you don't have a coolant filtration system that removes the swarf, the dirty coolant gets in the interface where the grinding wheel and the part meet, and the very small chips, or metal swarf, create little scratches in the part's finish. Also, dirty coolant could reduce the grinding wheel life because of having to dress it more frequently. If a machine doesn't have a proper coolant flush, it puts more emphasis on the operators taking care of the machine to make sure there is no swarf buildup. If there is enough swarf buildup, it can block the coolant flow.
Tailstock Options
When changing out tailstock or headstock centers, make sure the tailstock or headstock is free of debris, as well as the actual dead centers. If the centers don't seat in the taper because of contamination, the part can move while grinding, which can result in size, roundness, runout, and taper problems. Keep an inventory of different tailstock center lengths to work with from one setup to another to reduce setup time. The operator can just change out the tailstock center rather than move the whole tailstock on the table. A programmable tailstock will reduce setup time quite a bit. The quill moves to the correct position, and the operator doesn't have to move the whole tailstock base.
Reduce Dressing Changes
A lot of operators dress their wheel using a stationary single-point diamond that tends to wear out quickly. Once it wears out, it needs to be replaced, and the machine has to be retaught everything that relates to the diamond because it is working with a different tool. A rotary dresser diamond won't wear out as rapidly and will reduce the number of diamond changes. It will also give a consistent dressing of the wheel so it cuts the same part after part. It gives setup time savings and repeatability.
Develop Setup Routines
Be meticulous in your setup. Be sure operators are educated on the proper steps involved. Develop a step-by-step procedure to be followed, because if one step in a 15-minute setup is skipped, 45 minutes will be lost struggling to make a good part. Every piece of equipment is different, so rely on the OEM to help develop the setup routines.
Rob Titus is Grinder Product Specialist, Okuma America Corporation
More blog posts by Rob:
ID Grinding: Success Starts With the Quill
OD CNC Grinding: The "Non-Round" Way
Sign Up For Updates
Thank you for signing up for Okuma updates. We look forward to sharing our content with you.